A webinar on Career Opportunities with Intellectual Property Rights was held on July 24, 2021, through the Webex platform. The chief guest of the webinar was Dr. Debabrata Samantha, Assistant Professor in Computer Sciences and Coordinator of IPR cell.
The inaugural event started with the welcome address delivered by Dr. Erumalla Venkatanagaraju, followed by the introduction of the speaker by Ms. Catherine Beth Thomas.

Dr. Debabrata Samantha,
spoke on the basic concepts of Intellectual Property Rights and Copyright, emphasizing the methods and guidelines to be followed to draft IPR applications, of the products and processes generated in applied and natural sciences research.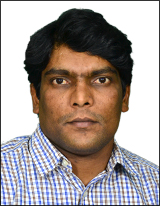 The webinar concluded with the vote of thanks by
Dr. Erumalla Venkatanagaraju,
Assistant Professor in Life Sciences and Coordinator, Webinar IPR.